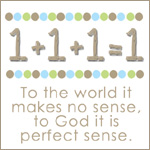 I admit I have seen this on a lot of other homeschool blogs and I didn't click on the link because I thought, "Oh great more Math... That doesn't even make sense." Then I read
this
. Yup, You can point and laugh at me now. I have assumed the loser position with letter L signed upon my forehead.
It turns out that
1+1+1=1
is not a crazy and complicated Math equation but a homeschool website and it is
AWESOME
!!!!
It is a letter of the week curriculum which I LOVE. I have always used letter of the week for Pre-K and K. I believe that the best way to introduce phonics is slowly and through immersion.
There is so much great stuff on this site that I am having a hard time tearing myself away. Whether you have a Toddler, a Preschooler, or a Kindergartener, there is something for all young children.
There are Bible study resources.
There are lapbook resources.
There are even MOM resources! I love the calender ideas.
Anyway! I have to go get some housework done!!! I have been playing around on this website for far too long. Be sure to set aside a good chunk of alone time and go check out this great site.