It is the kind of day when you have to get out of the house for sanity sake. I wish we could have gotten through school earlier so we could try to get to park day or parkour class. I think we are all sick of each other today. I have been playing referee since I woke up. I need a whistle and a flag.... or a super-soaker.
We made it through language lessons. Skittles read about contractions. Twizzler numbered the months of the year.
We barely survived math. Twizzler spent an HOUR on it. Skittles skated right through. I had Hershey sort some colored blocks and feed them into an old baby wipes container.
The spelling words that Skittles is studying are getting very hard. He is starting to get frustrated so I have cut the lists in half. I know he is doing great really though.
In history we read about David and Goliath. Then they wrote about it in their journals.
In science they did research on Iguanodon.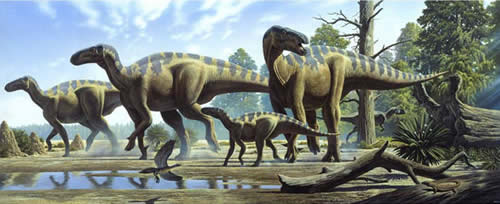 Twizzler read a bit of an autobiography about John Audubon. Skittles read about one of the Merry Men getting married.
Both boys worked on their Awana books. We have Awana tonight. I think we are going to get out of the house before that though and just go cruising. When gas is under $2 a gallon, we can afford to do that.